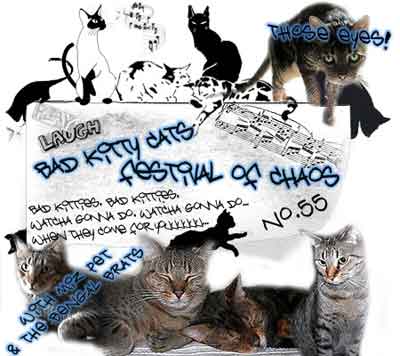 Bad Kitty Cats Festival Of Chaos Home page
Pet and TheBengalBrats send a big hug and lots of thank you purrs to Kashim & Othello
for making us such a beautiful header!
Proving that Pet is a chaos witch slightly psychic, no she didn't say psychotic Tigger…Notice how many photos feature "Those Eyes"..
sbpoet shares a real life look at love, loss, and denial with
Spike this post resides atWatermark.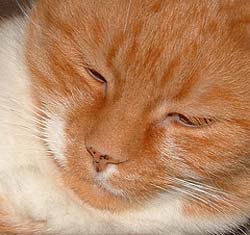 Send some purrs and prayers their way…
Babeth tells of the chaos that ensues when a bitty she cat takes on a manly-man man cat with Sweet temper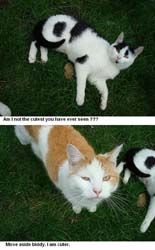 This uproar can be found at House of Chaos.
Russ dares the wrath of Queen Mycah by showing us a glimpse of a
Mighty Hunter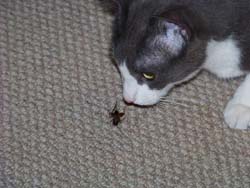 residing at TacJammer.
DEBRA gives us a moment of calm amidst the reigning chaos with
Finally Friday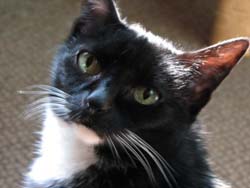 peacefully abiding at MANX MNEWS. .
Angus Mhor shows what a chaos possessed cat can and will do…
Notice the eyes. With Come Closer..I Don't Bite!~Whatcha' Gonna Do?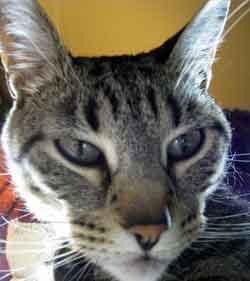 This post resides at Angus Mhor. Be afraid…
CatSynth (Amar and Luna) pay tribute to their dear friend Sher with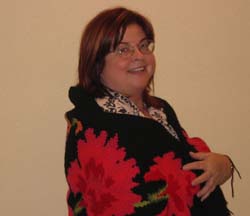 Pet and TheBengalBrats would like to join the Blogosphere in offering their sympathy to this lovely Ladys family and friends.
catsynth.com mp3 kitty cat synthesizer music - Weekend Cat Blogging: What Did You Eat? this tribute is found at
catsynth.com mp3 kitty cat synthesizer music.
Rahel proves that it all is chaos with
Symmetricats! hiding on the carpet at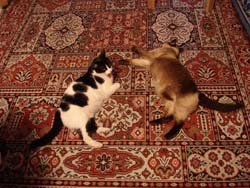 Sanjee shares yet another face of chaos with
Caturday running amuck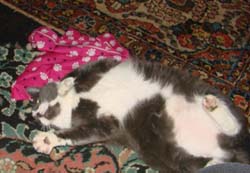 at House of the (Mostly) Black Cats.
Mog proves that it's not all chaos starring
Tummy Tuesday #100

resting peacefully at Mind of Mog.
Mog shows how snuggles get worn with
Finally Friday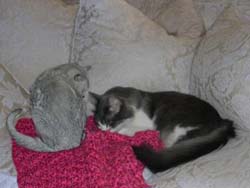 nesting at Mind of Mog.

Snow, Leo and Fairy contemplate the coming days of chaos outlined by
Change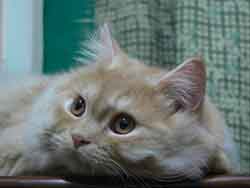 permanently displayed at …purrrrs…. Enjoy!

Willow shows an excellent example of this weeks theme with My Eyes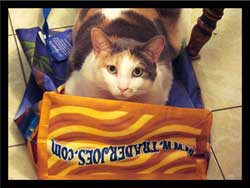 Willow's stunning eyes
posted at Willow's cat blog.

China Cat displays Those Eyes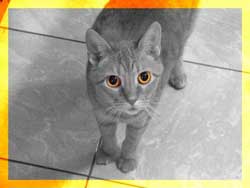 China's gorgeous eyes
perched at China cat's blog.
Samantha and Mr. Tigger were so caught up in chaos, they forgot to send their entry of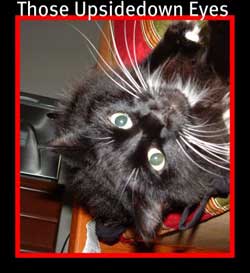 Samantha's downside up eyes
and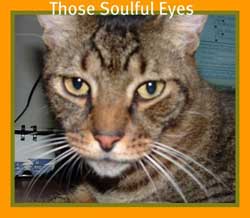 Mr.Tigger's Soulful eyes
playing in the Florida sand at Life From A cat's Perspective.
Kashim & Othello proves the "eyes" have it with this week's edition of
Bad Kitty Cats Festival of Chaos No.55 Your eyes are upon them at Kashim & Othello.
Next weeks edition of Bad Kitty Cats Festival of Chaos is hosted by Miz Mog and the kitties.
Pet and TheBrats thank you all for joining in to make this festival such fun!
Do stop by Kashim & Othello's
Place to say thanks for their wonderful (as always!) artwork!