Welcome to the bad kitty cats festival of chaos edition 29.
The announced optional theme this week was feathers or birds, at our house its
More likely to be… Go away I'm sleepy.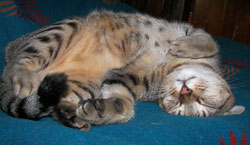 Boss cat Rocky shares just a few of the ways cats can relax err slack with Slacker Sunday residing at Artsy Catsy.
A fine job was done.
Andree shares that there is lots of interesting reading this week: Divisions in the Ceiling Cat Clubz, Ceiling Cat iz Smartr than U, Jesuz begunz 2 preech, amirite?, The callin of teh frist desipels, Jesuz heels teh sIckly, and a late visit from a King! meeyauw: LOL Cat Bible: Lectionary Readings for the Third Sunday after Epiphany divinely posted at meeyauw.
Nikita gives us some feline humor with awesome travel tips, careful that you don't spew while reading. Stop over and share some love with Madmacedonian
Izzy shows great restraint when invaded. SirWoody yawns and says ignoring, with a few growls proves who the superior cat is. As if there were any questions!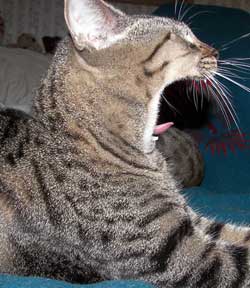 Cece poses beautifully for a man cat Monday, while Mog tries to eat with out any feline type help!
Mog also despairs over bad kitties with that darn cat.
Meowza gives us a great look at stalking.
We also get to see a dirty kitty.. go peek, that's all I can say!
Gypsy & Tasha share feather toy techniques, while showing off feline patience, and then they announce an award. Lucky buggers was Tiggers reaction.Exercise on Sunday and an Award! staked out at Gypsy & Tasha - Kaz's Cats.
Gattina lets us look at Arthur's activities of this week we were delighted to see that no unnecessary energy was expended My cats and funny stories.
TB gives us a hysterical look at How To Communicate With Your Cat SirWoody suggests that everyone prints and or memorizes this, for the humans convenience of course…found at The man's side of it!.
TT&TOT Gang share the utter bliss of friendship.. until they realize that camera is out.. Feline Friday: Cuddle Buddies hiding in plain site at This, That & The Other Thing.
Kelly Cat gives us the perfect resting spot for maximum attention with Traditional Friday Cat Blogging: Nicky parked at It's all Good..
Debra sees a new side of Ping, a great and mighty hunter Ping's Treasure trophy photos are at MANX MNEWS.
Sbpoet broke poor Sir Woody's heart with the appeal for employment opportunities for The Agony Cats. Save These Cats' Jobs! desperate at Watermark.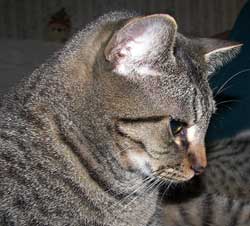 chaosgone shares a rip roaring, kitten bapping, biting and other great feline activities with Funny Kittens boxed in at Chaosgone.
Chey, the adorable is interviewing for a personal bodyguard.It appears to be a very difficult
position to follow..Just remember Chey it's all about you darlin.
Tigger and Samantha are just groovin with toys for Samantha's secret paw friend..Pretty obvious that Samantha is much more dignified!
Mr. Tigger announces that theM-Cats Club is open! If your a manly man cat or just a m-cat in training, this is a new club just for you!
This weeks weekend cat blogging was hosted by the Tuxedo Gang Hideout ,(not what did you eat!) they did a super job! My bad to Sam and the gang….
The next edition of the festival will be at The Bad Kitty Cats
Hosted by Megan and Zed Monster.
The Bengal Brats thank you for joining in, and hope you enjoyed the festival as much as we did.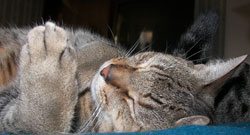 Please let me know if I have missed anyone.