Archive for January 9th, 2008
Jan 09 2008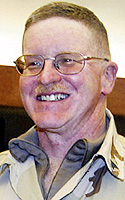 Sgt. Frank T. Carvill
51 years old from Carlstadt, New Jersey
3rd Battalion, 112th Field Artillery
June 04, 2004


When Frank T. Carvill told his sister he had been called up to go to Iraq, she was stunned. "Gee, Frank, are you going to be part of the AARP battalion?" she teased.
Carvill joined the Guard in the 80's out of a sense of patriotism. He was a devoted big brother to Peggy Liguori, who still remembers how as kids, he took her to see "Blue Hawaii" and "Born Free" at the movies. He was the longtime pal to Rick Rancitelli who admired Carvill's "million-dollar vocabulary" and his writing and public speaking skills. In 1993. Sgt. Carvill was working in the WTC as a paralegal when it was attacked. He helped a co-worker down 54 floors to safety. In 2001, he was still working at the WTC. He had just left the North Tower moments before the first plane hit.
Sgt. Carvill was killed when his convoy was attacked outside of Baghdad.
These brave men and women sacrifice so much in their lives so that others may enjoy the freedoms we get to enjoy everyday. For that, I am proud to call them Hero.
We Should Not Only Mourn These Men And Women Who Died, We Should Also Thank God That Such People Lived
This post is part of the Wednesday Hero Blogroll. For more information about Wednesday Hero, or if you would like to post it on your blog, you can go here.
-
Jan 09 2008
I had news yesterday that my dear friend Ruth went home to be with the Lord.
She was a faithful saint. She was my friend in some dark hours.
I will miss her.
My friend Elaine wrote:
I wrote your name on a piece of paper, but by accident I threw it away.
I wrote your name on my hand, but it washed away.
I wrote your name in the sand, but the waves whispered it away.
I wrote your name in my heart, and forever it will stay.
That sums it up…
I believe in angels, the kind that heaven sends. I'm surrounded by angels, but I call them my friends.