Apr 01 2008


pet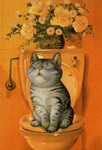 SonnyBob The Evil persecutor of LoliTheGreatDane The Innocent taking a much needed rest on the knees of TheMasterOfTheUniverse.
Drop by My Cats and funny stories for more cats on Tuesday!
Also visit the Catblogosphere for tuesday tummies!
One response so far
One Response to "Tuesdays Are For Being Adorable"
Mickey

on 01 Apr 2008 at 10:04 pm

1

SonnyBob, you look very cozy and comfy there :)
Have a good snooze.
Purrs Mickey
Leave a Reply
You must be logged in to post a comment.