Apr 18 2008


pet
Thank you for all of your prayers and purrs while I was in the
torture zone hospital.
I'm home, and the surgery went well.
Aside from a lot of pain, I feel so much better..
The doctor and his pa spoke to the MasterOfTheUniverse after surgery,they were shocked that I was able to walk at all, or function because the cage was against my spinal
cord and the nerves were "raked" over the cage.
They packed the cage site with artificial bone, and I am praying it fuses.
I am extremely thankful to be home. Funny the Bengal Brats are glad I'm home also!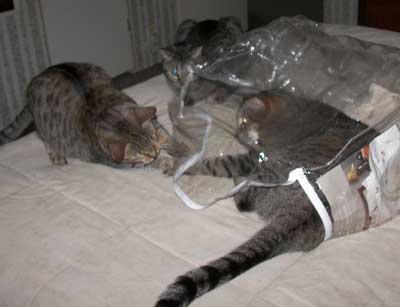 Cats in a bag.
Board the Friday Ark at The Modulator (submit your post here)
Weekend Cat Blogging is being held with Mog and Meowza at Mind of Mog
(see the week's& host to enter your WCB post in the comments for the weekend roundup)
Bad Kitty Cats Festival of Chaos is Sunday at the Cat Blogosphere
(submit your post here)
The Carnival of the Cats
4/20/08 #214 - Aloyisius at Catymology
(submit your post here)