May 16 2008


pet
I would like to introduce Shotke, a male (neutered) five year old marbled Bengal.
Shotke has not had a very pleasant life lately, but we intend to change that.
He joined The other Bengal Brats on Monday, after a narrow escape from being put to sleep.
He had another freaking trauma a lovely visit with the vet yesterday, a couple of shots, an IV because he was just a bit dry,but seems to be perking up this morning despite still feeling pretty darn scared. TheMasterOfTheUniverse has announced that their will be no more cats in our house. He's seems to feel that four Bengal's is to many..
Silly man!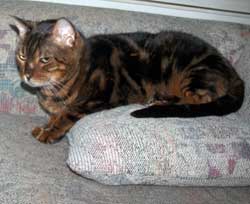 Click for full sized photo.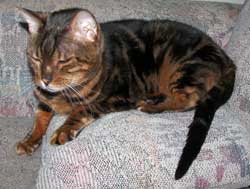 Click for full sized photo.
Board the Friday Ark at The Modulator's (submit your post here)
Weekend Cat Blogging #154 May 17-18:
held by Cheysuli and Gemini at Chey's Place(see the week's& host to enter your WCB post in the comments for the weekend roundup)
Bad Kitty Cats Festival of Chaos #45 May 11 is at Bad Kitty Cats Journal
(submit your post here)
The Carnival of the Cats #218 - 5/18/08
This, That and the Other Thing(submit your post here)
2 responses so far
2 Responses to "Meet Shotke"
Friday Ark #191…

We'll post links to sites that have Friday (plus or minus a few days) photos of their chosen animals (photoshops at our discretion and humans only in supporting roles). Watch the Exception category for rocks, beer, coffee cups, and….? Visit all the …

[…] and have you met Shtoke yet? He is a fine handsum Mancat of five years age and was saved by Miz Pet from being put to […]
Leave a Reply
You must be logged in to post a comment.