Oct 01 2006


pet
////
Update: For some reason, I had double quotations on the URLS.. not sure how that happened.. But it HAS been Fixed.. My apologies..I have checked each Url and they all appear to be going where they should..
////
Welcome to the Carnival of the Cats number 132 !
Let me scootch Tigger over so we can get this Carnival going!
As always, If I have missed your submission drop me a note.. and I will get you added!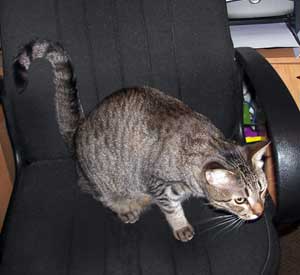 Is it a lesson that will be soon forgotten as Rafe puts his brothers in their place?
Mira returns with a Cat In A Hat.. Welcome Back!
Judith share a pretty as a picture pose with Velvet in the sun!
Russ escapes Mycah's attention by the skin of his teeth.. or seat of his pants .. one!
Aydin share a look at Temi who just celebrated a unusual Birthday!
Congratulations and a belated Happy Birthday!
anniemiz gives us Monday Cat Blogging: How Much Is That Kitty In The Window? posted at anniemiz.
Michael shares a ditty for the kitty's!
K T Cat shares A Gift for Nardo posted at The Scratching Post. Tigger say's What is it Nard0?
Martin Lindeskog - American in spirit. From Gothenburg, Sweden had a encounter with a thief, good luck on a new camera!
Sanjee gives us almost all the Weekend Cat News #7 posted at The Cat Blogosphere.
Meanwhile…
Meankitty & her Typing Slave examine the benefits of small human slave s and their toys.. err chairs..
Rondi gives us It's the Principle posted at Begin Each Day As If It Were on Purpose.
Keewee's Corner shares with us a cozy spot for Rocket!
Sissy Willis gives us We took the opportunity to do a little catblogging posted at sisu.
KeesKennis presents Tat's and me getting old together posted at KeesKennis.
Thomas shares a blinding shot Anonymous_X: Night Scene Mode - Unedited posted at Anonymous_X.
Callas presents Haunted Litterbox Claims 3rd Cat This Year posted at Catnabbit!.
Tata gives us a look at cat conspiricy.. or wild flights of fancy with Friday Cat Blogging: Take Us Forever Edition
the Robot vegetable presents Sabaki Shows a Lttle Ear posted at Middle-Fork.
acm sharesFriday bengal-blogging — Pixel catnap posted at Just between Strangers.
Diva Kitty gives us the question of the moment Should I stay… or should I go? posted at Diva Kitty & the Fluffies.
Leslie from Omnibus Driver shares someone is still enamored of Gigolo Kitty!
Hmmm.. Handcuffs and a flogger… geez…
Moving right along..
Russ at TacJammer gives us a glimpse shares cats in unusual places.. Then again they are cats…just hanging…
Da Nator shares a facinating personality Friday Cat Blog - The Mysterious One posted at Delectatio Morosa.
Cassie gives us !Feline Friday: Tumblebush posted at Scribblings.
leucanthemum b shares Friday Catblog: the furniture has arrived posted at Composite Drawlings.
Kimberly gives us Feline Friday: Mighty hunter posted at Music and Cats.
Chris Dolley gives us a peek atchrisdolley: Xena Quarrier Princess posted at Author Chris Dolley's Page.
Wes Phillips presents Stereophile: I'm Napping Here! posted at Stereophilia. And then!
Stereophile: Amuse Me or Feed Me posted at Stereophilia.
Allan gives us I'm ignoring you in hopes you will take your camera and go away. posted at AllanThinks.
Aunty Holly shares Purrfume posted at Aunty Holly.
Ostara gives us a wonderfully tucked Samcool cat posted at stillpoint.
Valerie shares a Printer Problems posted at Val's Bien.
Barry Campbell gives us Dropping the blogball posted at enrevanche. Looks like Gato
Has things well in paw..
Blueberry shares Friday Cat - Open that door!! posted at Texas Oasis.
Debra presents Boo Gets Her Groove On posted at MANX MNEWS. Its so wonderful when they play nice…
That was mostly for Tigger's benefit.. Just saying!
srp presents Tummy Tuck posted at Mélange. See how nice they get along…also shares Cleanliness Is Next To Godliness posted at Mélange.
Jasmine is an adorable baby kitten in foster kitty who needs a home…
Elisson shares CAMPING OUT posted at Blog d'Elisson.
Jeff lets us peek at A Couple of Cats posted at Athenamama.
Rahel gives us Elms in the Yard posted at Elms in the Yard.
jamsodonnell shares the fury of Mimi puts on her war face posted at jamsodonnell.
Suldog shares the tales of tworeprobate cats Coalie & Tigger posted at Suldog-O-Rama.
Skittles, The Cat presents TEX USES AN AB-LOUNGER??? WHAT A CRACK UP!!!! posted at The Whole Kitten Kaboodle.
And also a closer look as Skittles, The Cat presents The Ab-Lounger posted at The Whole Kitten Kaboodle.
Juli gives us a glimpse of chaos as kittys use room service..wow…
Beezer presents What Cha Lookin' At posted at Beezer Song.
Piper shows her lovely tongue.. as she grooms her nose after being shocked by the flashing camera lights..
Aloysius from Catymology is involved with some pretty Murky Research
C. Ann gives us Hey! Who Threw Mojo Away? posted at Purrfectly Black Cat.
Mog says animal testing is a terrible idea; they get all nervous and give the wrong answers. here are 3 submissions.. You figure it out!
Evil little wench
Miss Evil clawing
Jezi today
Kimberly gives us some beautiful eyes..
Maya had a late entry.. That I didnt see till this am..two tails and a baby!
SB from watermark also was a tad delayed, with
friday catblogging!
Glenn Reynolds is rumored to be willing to link to The COTC since the blog war is over. HUH!
That wraps up this weeks Carnival!
As always A big Thanks to Ls!
Next week the Carnival will grace Kitty Movie Monday
last weeks Carnival was at House Of Chaos