Feb 20 2007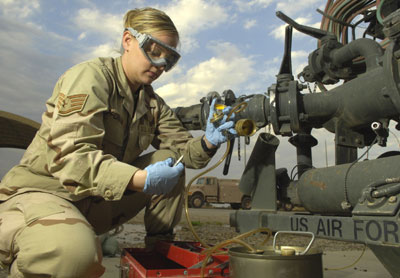 Staff Sgt. Kara Opperman
332nd Expeditionary Logistics Readiness Squadron


Staff Sgt. Kara Opperman performs a quality control check Feb. 13 on fuel coming out of a fill stand at Balad Air Base, Iraq. Sergeant Opperman ensures the fuel is safe and meets Air Force specifications before it is used for aircraft and equipment.
These brave men and women sacrifice so much in their lives so that others may enjoy the freedoms we get to enjoy everyday. For that, I am proud to call them Hero.
We Should Not Only Mourn These Men And Women Who Died, We Should Also Thank God That Such People Lived
This post is part of the Wednesday Hero Blogroll. If you would like to participate in honoring the brave men and women who serve this great country, you can find out how by going here.
Comments Off