Feb 18 2007


pet
Welcome to the 152nd edition of the Carnival of the Cats!
Tigger and Timi are enjoying a bit of morning sun as they wait for everyone to stroll in!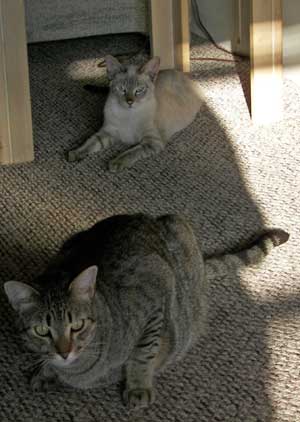 Elisson starts this weeks Carnival with AS OTHERS SEE US a funny bit of insight into how we and cats see life…He also shares a look at the Perfect Gift!
Next up Chris Dolley shares the kittens guide to Retrieving toys..Timi wants to know what toy that was!
jamsodonnell explains what Bebe is thinking with Point that camera at me again This must be one of those universally shared looks..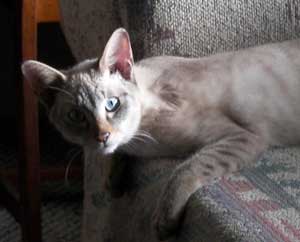 Aloysius sends a Stretch along with
a nice note to everyone….
enrevanche shares that Gato loves flowers,as well as a sad saga of frozen roses.. in checking for survivors…
Tigger wonders if Gato gets bopped for eating the roses?
Timi say's its time for some jazzy music!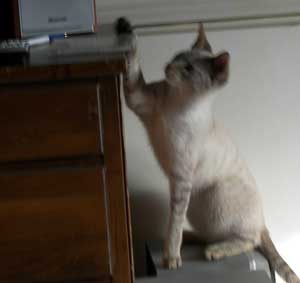 WW provides personal, biographical infomation regarding Skittles, The Cat Yeah! for furever homes!!!!!!!!!!!!
Melange gives us a look at adorable kitties and what happens when the meet pumpkins!
TacJammer shares Mycah's favorite game
She is looking good!
meemsnycdemonstrates some cool yoga for us!
Bobbie introduces Miss Emily and her sister Sara..
Welcome Bobby!!!!
ML (Mary Lynn) gives us
Formerly Feral Friday posted at Missy, KC and Bear.
ML (Mary Lynn) also shares
Lookie what i's gotted…. posted at Missy, KC and Bear.
Debra gives us a look at true relaxation with
Ping Takes It Easy posted at MANX MNEWS.
Blueberry meanwhile shares an update with
Catblogging - Duncan and Alex back to the vet posted at
Texas Oasis.
Moving on…PJ and The Boyz give us
Friday Cat Blogging: BRRrrrrrr posted at No Deep Thoughts.
They sure do the trick dont they?
Rahel shares
Yirmiyahu Minds the Store posted at Elms in the Yard.
All cats bring Joy!
K T Cat presents
Friday Morning Catblogging posted at The Scratching Post.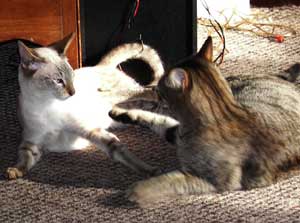 leucanthemum b gives us
Catblog Friday: Dog. Detente. posted at
composite drawlings.
Tigger say's they will work it out!
Jeff shares
All the Pets posted at Athenamama.
Dragonheart proves how fearless he is with
My Trip to Switzerland posted at
Dragonheart's Domain.
While Leslie at Omnibus Driver presents
Traveling Companions posted at Leslie's Omnibus.
The Divine Miss Marilyn is really getting those nails in great shape!
For some great closeups Annie presents
Friday Cat Blogging: Make Him Stop Touching Me posted at anniemiz.
Wes Phillips shares
Stereophile: Who Dares? posted at Stereophilia.
What gorgous shots Wes! He also shares
Stereophile: Who Me? posted at Stereophilia.
ACM presents
Friday cats — some spotted, some not posted at
Just Between Strangers. Awwwwwww… photoshop is us .. right!
And for some dignified begging we have…Victor Tabbycat presents Are You Going to Eat That?
posted at Bonnie Underfoot and Victor Tabbycat.
Michelle gives us a look at options with Betsy's Vet Visit #2
posted at When Cats Attack.
Be sure to say some prayers for this lil furball.. and her family!
Kimberly presents Feline Friday: The patient at home
posted at Music and Cats. What a brave lil girl..
Timi is quite smitten with her….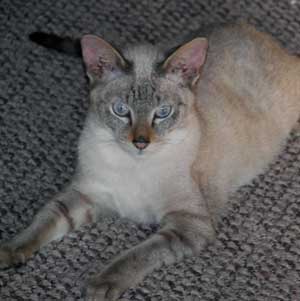 platypotamus gives us a stunning look at luminance
posted at hepcat.blog.
Kelly Cat makes us laugh with a funny scenerio Let Me Out! Let Me In!
posted at It's all Good.. Awwwww…
There is a serious competition going on with Bad Kitty Cats & Megan

Friday Ark Face Off posted at Bad Kitty Cats.
gottagopractice allows us a look at
Visitors posted at If at first you don't succeed….
What a beautiful group!
Sissy Willis gives us a bit of zen with
"There is nothing either good or bad, but thinking makes it so" posted at
sisu.She also shares
Václav Klaus takes no prisoners posted at sisu.
Valerie outsmarts Eli with Newspaper Kitty posted at Val's Bien.
While Mog shares a sweet look at Tongue 'n Toes Thursday #8
posted at Mind of Mog. Mog also gives us Tummy Tuesday #30 posted at Mind of Mog.Mog then presents Hamming it up posted at iInfidel.
Wow!!!! Mog gets over her mad.. and fulfills her duty… Me
posted at iInfidel.
Cassie shares just how cat minds work with
Feline Friday on Saturday: Claim Jumping posted at Scribblings.
Tigger is bragging at how superior cat minds are.. hmmmm…
Babeth shares with us her fantastic new kitchen.. and just what the kitties are saying in The Kitchen of Chaos Make-Over (part 2)
posted at House of Chaos. Nice work!
Rondi lets us know Orly is on the mend
Tummy Tuesday: Orloff on the Mend posted at
Begin Each Day As If It Were on Purpose. Such a pretty guy!
john shares bedmaking techniques StrangeRanger: Time out for cat… posted at
StrangeRanger.
Laura Lee Donoho presents
The Only Thing in the World that Scares Chuck Norris
posted at The Wide Awake Cafe.
Timi points out this is awesome use of "THE LOOK!"
jason shares
A sundrenched perch posted at xenogere.
Laurence Simon shares a well now so brilliant idea with Frisky mugged
posted at this blog is full of crap.
That ties up this weeks Carnival.. Thank you all for playing with Tigger and Timi!
Dont forget next weeks Carnival will be hosted by Scribblings
If you would like to host The Carnival of the Cats.. which is great fun.. and a good way to meet other catbloggers.. Just stop by Laurence Simon's place and follow the directions!
And dont forget to visit NZ bear at The Truth Laid bear some more carnivals!!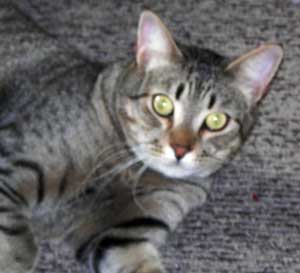 As always if I missed anyone, just drop me an email..pet (at)petsgardenblog.com
or use the contact form on the site…
Have a Blessed week!
Comments Off