Mar 07 2007


pet
This Weeks Soldier Was Suggested By SJ Reidhead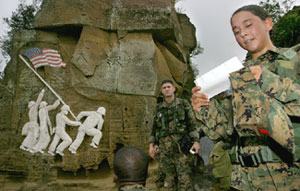 Cpl. Jennifer Parcell
20 years old from Bel Air, Maryland
Combat Logistics Regiment 3, 3rd Marine Logistics Group, III Marine Expeditionary Force
February 7, 2007


Cpl. Jennifer Parcell was petite, but one learned quickly that underestimating her was foolish.
"She was an absolute firecracker," Master Sgt. Jerry Widner said. "Just a go-getting machine."
Her relentless can-do attitude led her to volunteer for Iraq. And then to volunteer for the Lioness Program, which provides female Marines for searches of Iraqi women to respect Muslim cultural mores.
Parcell was killed Feb. 7 in Anbar province when a woman she was searching blew herself up with a suicide vest. Parcell had started doing the searches a week before and was three weeks from going home.
You can read the rest of Cpl. Jennifer Parcell's story here.
These brave men and women sacrifice so much in their lives so that others may enjoy the freedoms we get to enjoy everyday. For that, I am proud to call them Hero.
We Should Not Only Mourn These Men And Women Who Died, We Should Also Thank God That Such People Lived
This post is part of the Wednesday Hero Blogroll. If you would like to participate in honoring the brave men and women who serve this great country, you can find out how by going here.
-
Comments Off