Sep 25 2006


pet
Welcome to the Carnival of new blogs!
There is much happening under the Fall Big Top today!
Gracchi weaves tales of history and insights into Mahfouz The Search in Center Ring 1.
Pardon me while I drag Tigger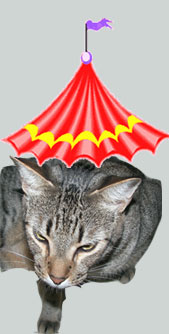 out from the Big Top, I confess a yearning for cotton candy…as I moved along the midway,I heard facinating tales of glory and wonderous inventions!
Kate Hudson gives a look at parenting choices along the midway with 40 Things that Really Annoy Meposted at Kate Hudson's Blog.
Like all good Carnival Barkers Todd presents Abe Linkum posted at Abe Linkum.
Michelle wows the crowds with brilliant information under the small top with Five Amazing Ways to Use Portable Solar Power posted at AmericanInventorSpot.com.
The Domestic Goddess entertains us with Hot Bandwidth, or, My Love Affair with the Internet posted at Musings of a Domestic Goddess.
And our last offering.. one I admit made Tigger flee is from far far down the midway…
Dr. Kavokin gives us How do they use you as guinea pig? Part3 posted at RDoctor Medical Portal.
As Always The Carnival of new blogs is limited to blogs that are 3 months old or less..
Last weeks carnival was celebrated by our furry friend The Random Yak
Next weeks Carnival is in the very capable hands of Dave at DavesNotHere
Hope you all enjoy the cool fall air under the Big Top!
Be sure to drop by TTLB to check out all the cool carnivals!