Feb 28 2007


pet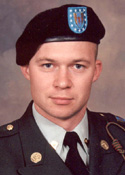 Today's Wednesday Hero post (post below) is about an amazing man, Sgt Major Brent Jurgerson, who survived not one, but two incredible wounds in the war in Iraq. When his last wound was received, Sgt Scottie Kinzer was with him and died in the attack.
Sgt. William "Scottie" Kinzer Jr., 27, of Hendersonville, North Carolina, died January 26, 2005, in Al Dalluyah, Iraq while serving his country by protecting a voting site. He was serving with the 1st Squadron, 4th Cavalry Regiment, 1st Infantry Division, from Schweinfurt, Germany.
Kinzer grew up in the small town of Salem, South Carolina. He attended high school at fletcher Academy, a Seventh Day Adventist boarding school near Asheville, North Carolina. He was a gymnast and one of 23 in the graduating class. He enlisted in the Army in March 2001, and had recently re-enlisted.

He trained as a cavalry scout and was assigned to Troop B of the 1-4 Cavalry. After completing 200 logistical supply missions with Toop B, he transferred to the 1-4 Cavalry's headquarters troop to become a Humvee driver and gunner for the unit's noncommissioned officer-in-charge, 1st Sgt Brent Jurgerson.
On January 26, Kinzer sood in the turret of Jurgerson's Humvee behind his M240B machine gun, part of a patrol inspecting polling places for the elections that would be held four days later. As the patrol passed through an alley, two insurgents jumped out and fired RPG's at Jurgersen's trail vehicle. Kinzer died instantly and the other three soldiers were injured.
"Freedom requires men like Sgt William Scott Kinzer. a man who voluntarily served his nation in a time of war and always performed his duty, full well knowing the potential cost," said Lt Cot Jim Chevallier, the 1-4 Cavalry commander.
Kinzer was postumously awarded the Bronze Star and the Purple Heart.
He is survived by his parents, William Scott Kinzer Sr. and Debbie Linn Kinzer of Salem, S.C.; sisters, Trish Harwood and her husband, Jeremie and Catie Kinzer, all of Weaverville; fiance, Melissa Milks of Fletcher; maternal grandparents, John H. and Theda Linn of Collegedale, Tenn.; and paternal grandparents, Joe and Sue Kinzer Bendall of Disputanta, Va.
To read about his beautiful funeral - http://www.militarycity.com/valor/622464.html
On March 13, 2006, President Bush gave a speech which included a letter from Sgt Kinzer's mother:
Since the morning of September the 11th, we have known that the war on terror would require great sacrifice — and in this war we have said farewell to some very good men and women. One of those courageous Americans was Sergeant William Scott Kinzer, Jr., who was killed last year by the terrorists while securing polling sites for the Iraqi elections. His mom, Debbie, wrote me a letter. She said: "These words are straight from a shattered but healing mother's heart. … My son made the decision to join the Army. He believed that what he was involved in would eventually change Iraq and that those changes would be recorded in history books for years to come. … On his last visit home… I asked him what I would ever do if something happened to him in Iraq. He smiled at me with — his blue eyes sparkled, as he said, 'Mom, I love my job…If I should die I would die happy, does life get any better than this?'" His mom went on: "Please do not let the voices we hear the loudest change what you and Scott started in Iraq. Please do not… let his dying be in vain. … Don't let my son have given his all for an unfinished job. … Please…complete the mission."
I make this promise to Debbie, and all the families of the fallen heroes: We will not let your loved ones dying be in vain. We will finish what we started in Iraq. We will complete the mission. We will leave behind a democracy that can govern itself, sustain itself, and defend itself. And a free Iraq, in the heart of the Middle East, will make the American people more secure for generations to come.
May God bless the families of the fallen. May God bless our troops in the fight. And may God continue to bless the United States of America.
No responses yet