Jun 20 2007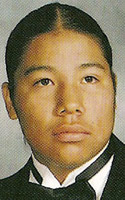 Lance Cpl. Hatak Yuka Keyu M. Yearby
21 years old from Overbrook, Oklahoma
3rd Battalion, 3rd Marine Regiment, 3rd Marine Division, III Marine Expeditionary Force
May 14, 2006


Hatak Yuka Keyu Martin Yearby was remembered in funeral services as a small town boy who balanced his Choctaw tribal heritage and his military life.
He did traditional American Indian dances with grace, compassion, discipline and free spirit — "the way he lived his life," the Rev. Timm Emmons said Monday.
"He had a desire to be in the military since he was a young boy. And he believed in what he was doing. He was a warrior, and he was a hero and he finished the course."
Yearby was killed by a roadside bomb, along with fellow Lance Cpl. Jose S. MarinDominguez Jr., in the Al Anbar province of Iraq, two months after he arrived in that country.
Friends and family, fellow American Indians, teachers and classmates filed past his open casket for an hour after the funeral while a U.S. Marine Corps honor guard stood at attention.
About 1,000 people attended a funeral service meant to celebrate the life of the 21-year-old newlywed from Overbrook in southern Oklahoma's Love County.
Those who spoke in the packed Marietta High School auditorium talked of how he loved to hunt, but never came back with anything. He played tricks, won dancing awards at powwows and appeared on a recruiting magazine for Upward Bound because of a headdress he made from a T-shirt.
Nine of his friends stood on stage to remember Yearby. Jake Barber spoke for them, pausing several times to regain his composure.
"Many great words describe Hatak. The only real word you need to say is 'brother'. He will always be known to us as the ace of spades, the most important card in the deck. He touched us so dearly that words cannot explain,".
These brave men and women sacrifice so much in their lives so that others may enjoy the freedoms we get to enjoy everyday. For that, I am proud to call them Hero.
We Should Not Only Mourn These Men And Women Who Died, We Should Also Thank God That Such People Lived
This post is part of the Wednesday Hero Blogroll. To find out more about Wednesday Hero, you can go here.