Nov 24 2006
Tigger is defying gravity!
(this.href,'aldopw','','600','585',true,''Tigger is a gymnast!');
return false">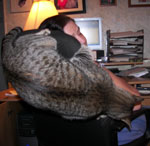 Remember all our Feline friends this weekend!
Tigger has made a bunch of new friends at The cat Blogosphere
Pet prayer and praise is a very cool place to visit, and meet new friends!
I'm gonna recommend MissSnot spend some time there in reflection…
The Modulator has the Friday ark up…
and House Of The (Mostly) Black cats has more cat blogging for us!
Scribblings will be hosting the Carnival Of The Cats this Sunday!
As always you can find the Carnival submission form at carnival.isfullofcrap.com
Comments Off