Apr 11 2007
This Weeks Solider Was Summited By Lt. Schneider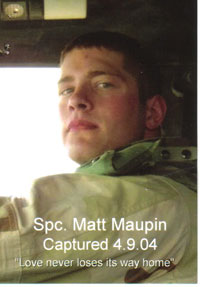 SSgt. Keith "Matt" Maupin
24 years old from Batavia, Ohio
Army Reserves 724th Transportation Company
MIA Since April 9, 2004




Strength, perseverance and determination is how you would describe the family of SSgt. Keith Maupin. Because even though their son has been missing now for almost three years, his parents still haven't given up hope that he's still alive. Said his father, Keith Maupin, "I'm saying it ain't over till the fat lady sings and when she sings, I'm going to choke her. That's what I say. They're going to find Matt." His mother, Carolyn, was quoted as saying, "We're to keep our hope up. And praying until they can prove to us 100 percent either way. And that's what I'm going to do. And I realize we only have a 50/50 chance here, but I'm not going the low road. I'm going the high road"
SSGt. Maupin, who was PFC. Maupin when he was capture and has since received two promotions, was reported MIA when his fuel convoy came under attack near the Baghdad International Airport. Along with Maupin was Sgt. Elmer Krause and seven employees of U.S. contractor Kellogg, Brown & Root. All of whom were either rescued or escaped. Seven days later, on April 16, Al-Jazeera aired a video tape of Maupin in which he was forced to admit that he was went to Iraq unwillingly. Then on June 28, 2004, Al-Jazerra reported that PFC. Maupin had been executed by a group calling themselves Persistent Power Against the Enemies of God and the Prophet. But no concrete proof has surfaced either way.
His parents have created a website called Yellow Ribbon Support Center if you would like to check it out. And while most in the media have forgotten Keith Maupin, Wednesday Hero hasn't.
These brave men and women sacrifice so much in their lives so that others may enjoy the freedoms we get to enjoy everyday. For that, I am proud to call them Hero.
We Should Not Only Mourn These Men And Women Who Died, We Should Also Thank God That Such People Lived
This post is part of the Wednesday Hero Blogroll. If you would like to participate in honoring the brave men and women who serve this great country, you can find out how by going here.