Archive for April 25th, 2007
Apr 25 2007
This Weeks Soldier Was Suggested By Sunny Kay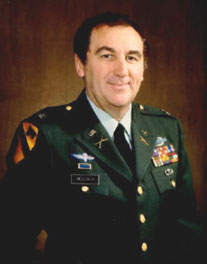 Col. Cyril Richard "Rick" Rescorla
68 years old from New York City, New York
16th Air Assault Brigade, Parachute Regiment (England)
Platoon Leader of 2nd Battalion, 7th Cavalry Regiment, 1st Cavalry Division (Airmobile) (U.S.)
September 11, 2001


Col. Rick Rescorla is a multiple time hero. In 1957 he enlisted in the British Army and began training as a paratrooper with The Parachute Regiment of the 16th Air Assault Brigade. He went on to serve with an intelligence unit in Cyprus, a paramilitary police inspector in the Northern Rhodesia Police (now the Zambia Police Service). When his military career ended in England he joined the Metropolitan Police Service in London. But he found the paperwork too boring and quite at the behest of a friend who encouraged him to join the United State Army. Which he did.
In 1963, Rescorla enlisted, with his friend, in the United States Army. After he completed basic training he attended officer training school and was assigned as a platoon leader in the 2nd Battalion, 7th Cavalry Regiment, 1st Cavalry Division (Airmobile).
He was shipped to Vietnam and participated in the Battle of la Drang. While in Vietnam, he was given the nickname "Hard Core" by his men for his bravery in battle.
In 1968, Resorla became a U.S. citizen and continued his service in the Army Reserves until 1990 when he retired. In 1985 he joined a financial services firm, located in the World Trade Center, as security director.
In 1993, when the WTC was bombed, Rescorla was instrumental in evacuating people from the building. Afterwards, he enacted a policy in which all employees of the firm practiced evacuation drills every three months.
September 11, 2001. Rick Rescorla was supposed to be on vacation getting ready for his daughters wedding. Instead he was at work covering a shift for one of his deputies so that he could go on vacation. When American Airlines Flight 11 hit Tower 1, Rescorla ignored officials advice to stay put and opted instead to put his evacuation drills to use. While evacuating the 3,800 employees of his firm in Towers 2 and 5 he kept reminding them "be proud to be an American …everyone will be talking about you tomorrow" and sang God Bless America over his bullhorn. When Flight 175 struck Tower 2, Rescorla had already evacuated most of the employees from his firm as well as many others from other floors. He then went back in, despite being told he needed to evacuate himself. The last known words anyone heard him say were, "As soon as I make sure everyone else is out". Tower 2 collapsed with Rick Rescorla last seen heading to the 10th floor looking for more people to help.
As a result of his actions that day, all but six employees of his firm made it out alive. One of those being him and three others being his deputies who followed him into Tower 2, Wesley Mercer, Jorge Velazquez, and Godwin Forde.
These brave men and women sacrifice so much in their lives so that others may enjoy the freedoms we get to enjoy everyday. For that, I am proud to call them Hero.
We Should Not Only Mourn These Men And Women Who Died, We Should Also Thank God That Such People Lived
This post is part of the Wednesday Hero Blogroll. If you would like to participate in honoring the brave men and women who serve this great country, you can find out how by going here.
Apr 25 2007
SmartPak announced that it's recalling a single production run of LiveSmart Weight Management Chicken and Brown Rice Dog Food. The company said the food contained rice protein concentrate poisoned with melamine.
Published reports previous to this have assured us Ad nauseam that the poisoned wheat and rice gluten did not get into the human food chain. All eyes have been on pet food, poisoned or if you prefer tainted pet food.
We have now learned that hog farms in six states and at least one chicken farm were also poisoned.
April 4th we were told that the wheat gluten was food grade.
"Yes, it is food grade," Del Monte spokesperson Melissa Murphy-Brown wrote in reply to an e-mail query." That was melamine-tainted wheat gluten ; no one has admitted what grade the melamine-tainted rice gluten was.
So this poison is in the human food supply through major food products supplier and processor.
The FDA is finally now testing "wheat gluten, rice protein concentrate, corn gluten, corn meal, and soy protein and rice bran" more than a month after initial pet food recall.
I expected the FDA or Wilbur-Ellis to announce the other 2 company names as well as the other supplier of the poisoned glutens.
However Wilbur-Ellis and FDA won't name the other 2 pet food companies.
Companies that received Wilbur-Ellis rice protein so far: Blue Buffalo, Natural Balance, Diamond Pet Food, Royal Canin, and SmartPak. FDA has not yet announced all companies.
Senators claim a second source of tainted rice protein. FDA has yet to name this other company.
It just keeps getting more and more mysterious,it is actually rather frightening. Its already gotten into the hogs and possibly chicken, what is next??
Trackposted to Perri Nelson's Website, Leaning Straight Up, Cao's Blog, third world county, The Crazy Rants of Samantha Burns, Conservative Cat, and The Yankee Sailor, thanks to Linkfest Haven Deluxe.