Jun 22 2006
I have to admit I thought it was nonsense.
The headline read "Illegal alien rapes puppy
Suspect felt there was no problem; claiming animal was his to abuse"
The dog, a 4-month-old Argentine Dogo, was being cared for by the Humane Society of the Treasure Coast.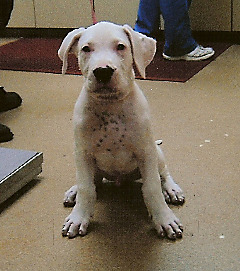 "He's already been evaluated by the vet, and the vet says he's OK and will recover from whatever happened," Humane Society spokeswoman Roberta Synal said Tuesday. "If he's put in a good foster home, he's going to get lots of love and training."
Synal said the Humane Society, through the foster parent, would maintain custody of the dog, an unusual breed, until officials determine who actually owns it. If the owner or the legal process gives ownership to the Humane Society, the dog would be put up for adoption.
"If anyone wants to help out, the best thing they can do is come here and be a foster parent," she said.
This illegal alien has been arrested before. Records from the Florida Department of Law Enforcement show Trenta spent 28 days in jail after pleading no contest to an Orange County misdemeanor larceny charge in 2005.
Why is he still here?
A study done by a crimes profiler Deborah Schurman-Kauflin, Ph.D. Violent Crimes Institute, Atlanta, Georgia states: After conducting a 12 month in-depth study of illegal immigrants who committed sex crimes and murders for the time period of January 1999 through April 2006, it is clear that the U.S. public faces a dangerous threat from sex predators who cross the U.S. borders illegally.
Trenta, a Mexican citizen working as a laborer, was charged with one count of felony sexual bestiality and one count of felony animal cruelty. He was also charged with one misdemeanor count each of giving a false name to deputies, exposure of sexual organs and possession of paraphernalia after a marijuana-smoking pipe was found in his pocket, according to the report.
I'm sure these are the kind of neighbors we all want far away from our homes.
Like deported back to Mexico, This should have happened when he was arrested in 2005.
This was a production of The Coalition Against Illegal Immigration(CAII). If you would like to participate, please go to the above link to
> learn more. Afterwards, email the coalition and
> let me know at what level you would like to participate.