Nov 29 2006


pet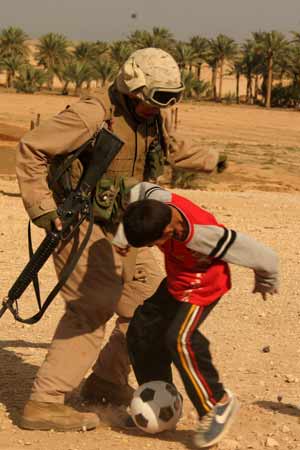 Cpl. Jason E. Meier
From Arlington, Wisconsin
1st Team, 3rd Squad, 3rd Platoon, Bravo Battery, 3rd Low Altitude Air Defense Battalion, Marine Wing Support Group 37 (Reinforced), 3rd Marine Air Wing (Forward)
Cpl. Jason E. Meier plays soccer with an Iraqi boy during humanitarian efforts while on a Mounted Combat Patrol in the Al Anbar Province of Iraq, November 8, 2006. Meier is the vehicle commander for 1st Team, 3rd Squad, 3rd Platoon, Bravo Battery, 3rd Low Altitude Air Defense Battalion, Marine Wing Support Group 37 (Reinforced), 3rd Marine Air Wing (Forward). He is an Arlington, Wis., native.
These brave men and women risk their lives so that others may enjoy the freedoms we get to enjoy everyday. For that, I am proud to call them Hero.
We Have Every Right To Dream Heroic Dreams.
Those Who Say That We're In A Time When There Are No Heroes, They Just Don't Know Where To Look
This post is part of the Wednesday Hero Blogroll. If you would like to participate in honoring the brave men and women who serve this great country, you can find out how by clicking here.
Blogs Participating In Wednesday Hero
Yankee Mom
Bear Creek Ledger
Mail Call! Supporting The Troops
Yeah, Right, Whatever
CrosSwords
Gazing At The Flag
Gawfer
Ohio Military Reserve
DeMediacratic Nation
My Point
A Day In The Life Of…..
Blue Star Chronicles
prying1
Pet's Garden Blog
Pictures From My World
Freedom, GUNZ, Glory and EBYJO
Hooah Wife & Friends
Right-Wing & Right Minded
No responses yet