Archive for May 2nd, 2007
May 02 2007


pet
May 02 2007


pet
Think about this carefully.
According to the alert notice posted on the FDA website Friday, the agency has so far taken 750 samples of wheat gluten and products made with wheat gluten and found 330 positive for melamine or melamine combined with another substance. (Note: This mystery substance is not revealed)
It also found 27 positives out of 85 samples of rice protein concentrate and products made with rice protein concentrate.
All of the samples that tested positive were imported from China.
"I don't believe it has reached such a serious stage that human food is at risk," Wu Yongning, Deputy Director of the National Institute of Nutrition and Food Safety, part of China's Ministry of Health, said in Beijing. "Problems occur in all countries."
"Generally speaking, American consumers should not worry too much," said Luo Yunbo, Head of the Food Science and Nutrition Engineering Institute at China's Agricultural University in Beijing. "We select the best products for the international markets."
Excerpt from transcript of FDA/USDA media teleconference providing an update on adulterated feed to poultry and hogs Washington, D.C.—may 1, 2007
DR. PETERSEN: On the breeder end, currently the estimated numbers we're working off of is around 100,000 breeders that are waiting to be depopulated. (Yes that means they are going to kill them, and either burn or bury them.)
REPORTER: How much does, how many – can you give me kind of an idea of what that is of the total market for the year or anything like that?
DR. PETERSEN: Well, for breeders, what we call a heavy fowl, let me just, off the cuff, probably, total heavy fowl slaughter I would say would be several million.
REPORTER: Okay. And as far as the broilers?
DR. PETERSEN: I'm sorry? Say it again?
REPORTER: How many of the broilers are expected to have eaten the feed and gone out into process?
DR. PETERSEN: That's the working number is several million, in the range of 2.5 to 3 million.
REPORTER: 3 million broiler chickens?
See entire article..
We Americans may be a bunch of lazy whatever's.. But lazy does not equal stupid.
And we care about our families and our pets.
Something The USDA and FDA have not noticed.
Trackposted to Perri Nelson's Website, Blog @ MoreWhat.com, Allie Is Wired, third world county, The Random Yak, The Crazy Rants of Samantha Burns, The World According to Carl, Leaning Straight Up, The Bullwinkle Blog, Cao's Blog, Conservative Cat, Pursuing Holiness, and , thanks to Linkfest Haven Deluxe.
May 02 2007


pet
This Weeks Soldier Was Suggested By Echo9er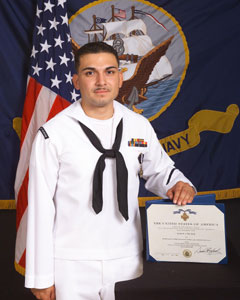 Hospitalman Luis E. Fonseca Jr.


On August 11, 2004, Naval Hospitalman Luis E. Fonseca, Jr. was awarded the Navy's second highest decoration. The Naval Cross, which is awarded for extraordinary heroism while engaged in an action against an enemy of the United States and must be performed in the presence of great danger or at great personal risk, was awarded for his actions while serving with Amphibious Assault Vehicle Platoon, Company C, 1st Battalion, 2nd Marines, Task Force Tarawa, II Marine Expeditionary Force.
On March 23, 2004, Fonseca, Jr.'s unit were trying to take the Saddam Canal Bridge. Five Marines were injured when their vehicle was hit by an RPG. Fonseca, while still being fired upon by machine guns and RPG's, pulled the Marines to safety and established a casualty collection unit inside his own medical evacuation vehicle. After his vehicle was hit once again, Fonseca organized litter teams and directed the movement of four of the Marines, while personally carrying one wounded Marine over open ground to another vehicle. On November 15, 2004, Seaman Fonseca was awarded the "Grateful Nation Award" from the Jewish Institute for National Security Affairs for his actions.
"I was doing my job," said Fonseca. "I wish I could have done more."
These brave men and women sacrifice so much in their lives so that others may enjoy the freedoms we get to enjoy everyday. For that, I am proud to call them Hero.
We Should Not Only Mourn These Men And Women Who Died, We Should Also Thank God That Such People Lived
This post is part of the Wednesday Hero Blogroll. If you would like to participate in honoring the brave men and women who serve this great country, you can find out how by going here.