Archive for October 10th, 2007
Oct 10 2007
To all who have prayed or have considered us and our situation, our heartfelt thanks!
A special thank you to Miss Megan!
This was not supposed to happen, really it wasn't.
I intended to have a simple (comparatively) speaking
Spinal fusion, 3 days in the hospital, onward with physical therapy
And I am good to get on with life.
Instead I got a spinal infection. Emergency surgery to get that cleaned up…
A second surgery days later, to install a Hickman catheter into my heart. (No, they could not get a piccline into my veins.)
Home IV's for 4-6 weeks on Vancomycin 2 grams a day.
Two weeks later.. Still not feeling too great….in fact feeling really bad…
Kidneys shutting down, and a terrible tiredness, and a fever that just hung on..
In spite of calls from our home nursing staff, and my "whining"
The surgeon kept insisting it was side effects from the vancomycin…
Heh.
Finally at TheMasterOfTheUniverses insistence I made a
Call to our family doctor and a quick visit to his office
Where my blood pressure was 70/50…and I was in what's called septic shock.
(Had the family doctor waited another 48 hours to act, I would have likely died.)
A cool thing happened when the Doc was telling me I needed to get readmitted to the hospital. TheMasterOfTheUniverse showed up at just the right moment. He had left work early to get the vehicle tags renewed, and just popped across the street to our doctors' office.
I was a lil bit more than slightly scared.
We had another delightful trip to the hospital where the blood infection was found.
Having been on Vancomycin one of the "heavy hitters" for bacterial infections for three weeks, I still don't know how the blood infection got started; another trip to the operating room, and the Hickman catheter was removed, and cultured. It was negative.
Puzzling…
Seven days of zyvox, the power hitter antibiotic, you know that old saying.. If it doesn't kill ya, ya may get stronger? Or better yet, here is a foretaste of hell on earth.
As Megan pointed out, there is no accountability being taken in this by doctors or the hospital, I believe there should be.
I am still very tired and more than a lil cranky… Thank Goodness TheMasterOfTheUniverse is patient… Please continue to pray for us..
And again, my thanks for all of your prayers!
Oct 10 2007
http://img340.imageshack.us/img340/709/hollyholemangi0.jpg
This Weeks Hero Was Suggested By Beth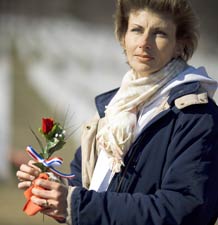 Her name is Holly Holeman. Her job is working at a flower shop. And her mission to make sure soldiers are never forgotten. Which is why she's out at Arlington National Cemetery every week putting flowers around the headstones. She usually does this alone, but on a bitter cold day in February of 2007 she was met with family members of fallen soldiers buried in Section 60 of the cemetery who helped her to place the roses.
To read the rest of Holly's story, you can go here.
These brave men and women sacrifice so much in their lives so that others may enjoy the freedoms we get to enjoy everyday. For that, I am proud to call them Hero.
We Should Not Only Mourn These Men And Women Who Died, We Should Also Thank God That Such People Lived
This post is part of the Wednesday Hero Blogroll. For more information about Wednesday Hero, or if you would like to post it on your blog, you can go here.