Oct 21 2007
Kashim & Othello give us Goosebumps with Bad Kitty Cats Festival of Chaos No. 15 posted at Kashim & Othello.
Kashim & Othello apply their superior brains to create the chaos of Lizards, and Frogs..

Onyx the Halloween Squillion waves the magic wand only to find that the Toes of Frog Don't Work zapped from the Halloween space atHouse of the (Mostly) Black Cats. Gossip.. who said that?

Mog shares a great snake hunter story withCaturday posted at iInfidel.

Mog also shares a mystery…. Caturday at theMind of Mog.
Katie mean while shares a look at a beautiful lady WCB: The Puddy Post posed at A Byootaful Life.
SonnyBob says a cats butt is beautiful.. But We will leave that up to you…
CatSynth (Amar & Luna) gives us a poignant look of love and loyalty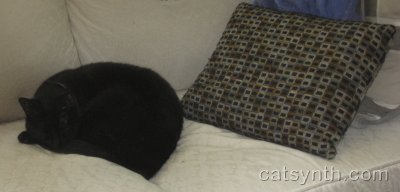 catsynth.com mp3 kitty cat synthesizer music - Weekend Cat Blogging #124 and more: Away shared by catsynth.com mp3 kitty cat synthesizer music.
Megan tells the tale of lizards, beds, and husbandman with the scary question What Lives In Our Bed? coming alive at Bad Kitty Cats Journal.

Parker shares the nip with Easy Like Sunday - Togetherness! given to us by Perfectly Parker.
Strayer a cat lady, recently lost a dear friend, butterscotch…. Please stop by and offer a hug and some kind words…
Samantha Black & Tigger quietly share Wordless Wednesday posted at Life From A Cat's Perspective.. Quiet!!!!! lizards in the area!
Upsie from would rather be chasing lizards, than dealing with needles..

Sleeping Mommy brings you
Friday Felines, Furry Friday, Caturday, etc., what beautiful kitties!
Cassie gives us a wonderful treat with Feline Friday: Special Pictures of the Gang posted at This, That & The Other Thing.

Mog tells us about spam and cats with Bad Kittycat not spammed at iInfidel.

Kelly Cat shares Traditional Friday Cat Blogging: Mr. Kelly Cat models at It's all Good..
Mog gives us a look at Meowza Purrfect Day posted at Mind of Mog.

Debra gives us a first time great buggies hunter Buggies trophy is at MANX MNEWS.

Russ confesses to catblackmail forcing Mycah to lose weight Trim-Jeans Theater Presents posted by the guards at TacJammer.

Mycah wonders scritch or chow.. hmmmmm
sbpoet gives us a fun link and a look at a human-tiger My WiLD SeLF currently visiting from Watermark.

Itsy-Bitsy
Cheysuli admits the truth of borg life Wordy Wednesday computed by Chey's Place.

borg-chey
Cassie creates a new day for girl type cats Woman Cat Wednesday #6 started by This, That & The Other Thing.
amber says yes to an all girl day!
Please let me know if we have missed anyone! Thank you all for joining in for Chaos!!!
For greater cat blogging stop by:
Carnival of the Cats at Bad Kitty Cats
Friday Ark at the Modulator always
Weekend Cat Blogging at Tuxedo Gang Hideout