Jan 30 2008


pet
SSgt. Whiting Extra Image - http://img182.imageshack.us/img182/533/sgtjustinwhitinggi8.jpg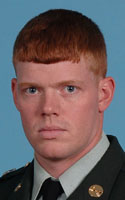 SSgt. Justing R. Whiting
27 years old from Hancock, New York
3rd Battalion, 5th Special Forces Group (Airborne)
January 19, 2008


Staff Sgt. Justin R. Whiting, a Special Forces medical sergeant sustained fatal wounds when his vehicle was struck by an improvised explosive devise 16 kilometers south of Mosul, Iraq.
He is survived by his mother, Estelline, of Colorado Springs, Colo., father, Randall, of Hancock, N.Y., sister, Amanda, of DuPont, Wash., and brother Nathan of Dover, Tenn.
For more information on SSgt. Justin Whiting, you can download this PDF file.
These brave men and women sacrifice so much in their lives so that others may enjoy the freedoms we get to enjoy everyday. For that, I am proud to call them Hero.
We Should Not Only Mourn These Men And Women Who Died, We Should Also Thank God That Such People Lived
This post is part of the Wednesday Hero Blogroll. For more information about Wednesday Hero, or if you would like to post it on your site, you can go here.
Trackposted to Right Truth, The Pink Flamingo, A Newt One- bloggers rountable, Celebrity Smack, Cao's Blog, Leaning Straight Up, Wolf Pangloss, , Dumb Ox Daily News, Right Voices, and The Yankee Sailor, thanks to Linkfest Haven Deluxe.
5 responses so far
5 Responses to "Wednesday Hero~SSgt. Justin R. Whiting"
Leave a Reply
You must be logged in to post a comment.